TV
Best Antenna Rotator – Top Outdoor Antenna Rotator Review of 2021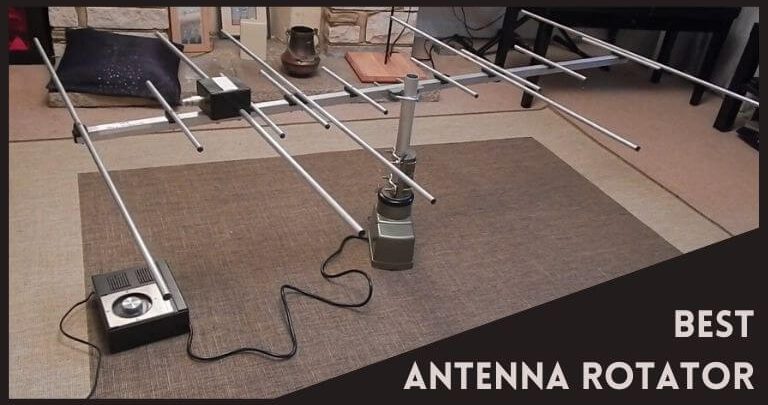 TV antennas are always having the problem of the signal drops. Even you are living in a high bandwidth area, then also during a cloudy day, you might face difficulties with inconsistent network issues. Many people blame their operators for this problem, but it's not always true. This problem is actually caused when the receiver of your antenna is not aligned evenly in a favourable position. 
Also, every time changing the position of the antenna is not an efficient and accurate way. The solution to this problem is to use an antenna rotator with your antenna. Before diving into the main topic, lets first learn about the antenna rotator.
How Does an Antenna Rotator Work?
An antenna rotator is a device that is used to change the position of your antenna to get the best bandwidth of the TV signal. The antenna rotator is attached with the mounting pole to provide a stable rotating axis to the antenna. The rotator consists of a heavy, durable motor which helps the antenna to rotate in 360 degrees. To use the rotator with your antenna, you need to supply the rotator with external power connecting it through the cable.
Below in this article, we have discussed the top 5 outdoor antenna rotator available in the market. Do read this article till the end to know the best one for you. So let's get started without wasting any further time.
Best Antenna Rotator
1. RCA VH226F Outdoor Antenna Rotator with Remote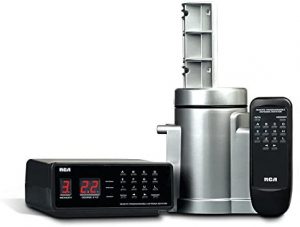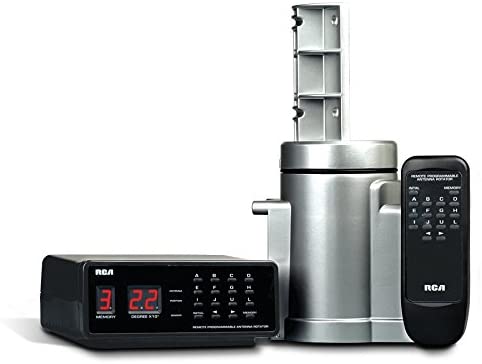 The RCA VH226F Outdoor Antenna Rotator is programmable. It is designed to withstand antennas which are having a diameter up to 2 feet. Its weight is 25 pounds or 9 kgs. You just need to install it at the bottom of your TV antenna stand with easy steps provided in the manual guide.
Pros
It is built from high-quality aluminum material.

It can connect up to 12 TV channels or 12 FM stations with this antenna rotator.

It uses automatic antenna positioning technology with programmable memory.

It comes with a wireless remote, which helps in the tunning antenna position manually.

It has a control unit with a digital display, which indicates the present status of the outdoor antenna.
Cons
After installing it on your antenna stand, it won't make you feel its presence until you use it.

2. McDuory Outdoor 150 Miles Digital Antenna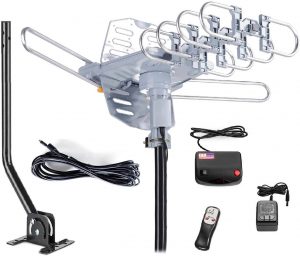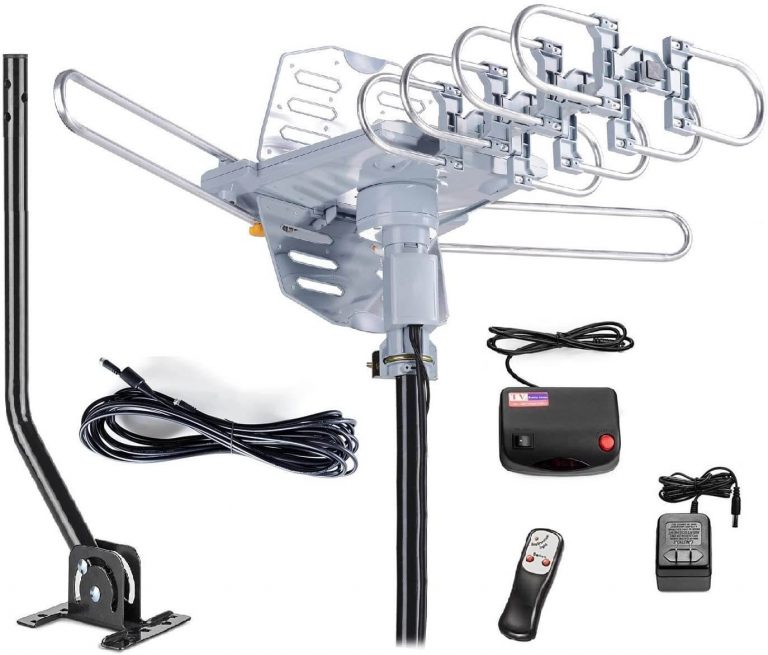 The McDuory is a whole kit that contains a TV antenna rotator, which is designed to get integrated with the antenna provided in the box. The antenna rotator offers a 360-degree angle of rotation to the antenna. Also, with this kit, you will get one year of manufacturing guarantee and 45 days of the money-back guarantee.
Pros
It comes with a long-range receiver that can receive a signal from 150 miles away.

With this antenna rotator, you get an option of connecting two TVs on the output side.

With this antenna rotating kit, you will be provided with a 40 ft outdoor coaxial cable.

It includes all mounting gears within the package, including an easy-to-follow user manual for installation.

It is built on weather-resistant technology to protect against rain and lightning.
Cons
This antenna might look a little bit antic to some of the people.

3. Outdoor Rotator Rotor with Remote and Automatic Programmable Antenna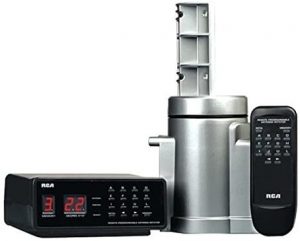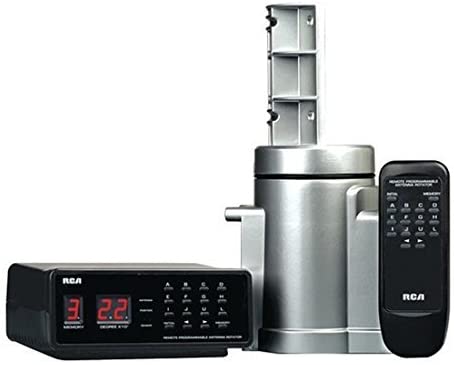 The RCA Outdoor Rotator Rotor is a self- positioning antenna rotator. This outdoor antenna rotator can be easily controlled by sitting inside your home. It is compact and compatible with every antenna stand present in the market.
Pros
You can program this rotator memory to set up to 12 FM stations or 12 TV channels.

It is equipped with an infrared remote control to control the antenna position wirelessly.

It has an option of manual as well as automatic tunning of channels from different directions.

It uses a high gear reduction lock motor, which provides precise and accurate positioning for each channel.

It also includes a digital display to give the present details about the positioning of the antenna. 
Cons
It might be tricky for a beginner to understand the guide manual and install it on their antenna.

4. PBD Outdoor Digital Amplified HDTV Antenna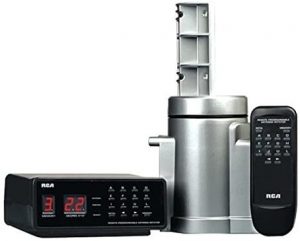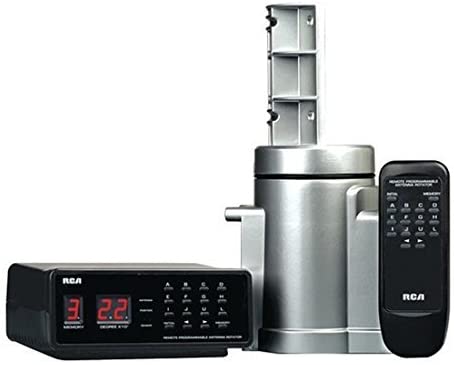 This product is a kit consisting of a TV antenna and a TV antenna rotator. The antenna provided in the kit is built to be compatible with the antenna rotator. The package includes 150 Mile Motorized 360 Degree Rotation, Wireless Remote Control, and 59 ft RG6 Coax Cable.
The assembling of this outdoor antenna is very easy. You will not require any additional tools to set up this antenna rotator with the antenna.
Pros
It comes with built-in super high gain and low noise amplifier.

You can stream channels from this antenna kit, starting from 480p up to 4K resolutions. 

This rotating antenna kit is provided with a 59FT RG6 outdoor coaxial cable.

The antenna is designed to receive a signal up to 150 miles distance away.

This antenna rotator has a reliable motor rotor that provides 360-degree rotation to the antenna module.
Cons
The mounting pole is not included in this kit.

5. Antenna Rotator With Remote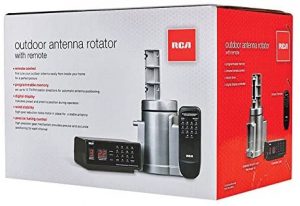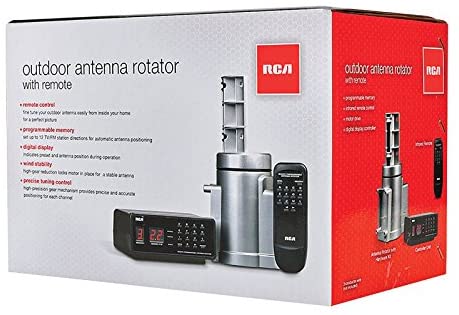 This antenna rotator is a premium quality product that is rich in features. With this antenna rotator, you can set up to 12 FM stations or 12 TV channels. Installing it to your TV antenna is an easy job. The guide provided with this rotator will help you to install it on your antenna very easily. 
Pros
It gives you both the option of connecting channels by automatic as well as manual tuning.

For manual positioning, you can tune it wirelessly by using the IR remote provided in the box.

The control unit provided with this rotator has a digital display to show the states of the antenna. 

It uses a high precision gear mechanism to position the TV antenna accurately for each channel.

It is also equipped with a gear reduction lock mechanism to attain a stable position during heavy wind storms.
Cons
It has a priced little bit high, which totally justifies its quality and features. 

The Bottom Line
All the 5 antenna rotator discussed above in this article are the best antenna rotators. Bur still, if you are confused to choose which one among them, then, we would love to suggest you the RCA VH226F Outdoor Antenna Rotator. We hope you liked reading this article. For more such informative materials with some product's key features, please stay connected with us. 🙂