Reviews
Best 80m Antenna – The Right Supplies For 2022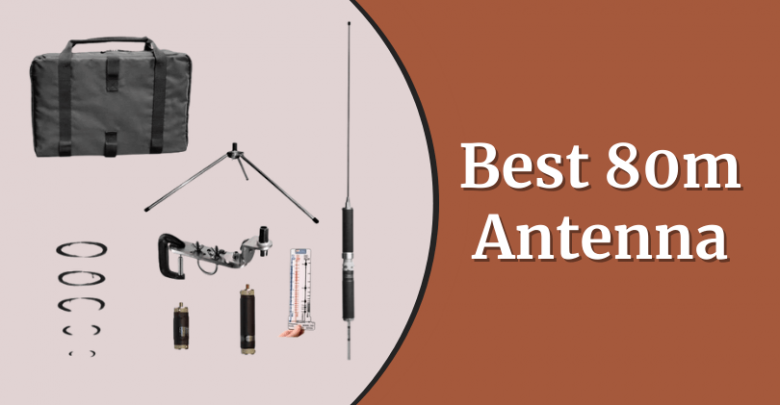 The 80m band is one of our favorites because it does exceptionally well. It is quite close to 160m but its coverage is much better, especially for medium distances. During the day, you can reach stations up to a couple of hundred miles but during the night, this can extend to a thousand! In other words, minimal sunlight is when the 80m band will thrive. However, you can use it at other times as well.
The 80m band has an excellent spectrum space including AM, SSTV, RTTY, CW, and digital. It is a brilliant option for amateurs. 
You can take advantage of all these features only when you have a top-notch, high-quality antenna. And, that's what we are here to discuss.
Best 80m Antenna – Editor's Choice 
Our experts have chosen a few very good options based on different parameters that you can pick. They all have good reviews and are reliable. Let's go through them now:
1. OCF Dipole 7 Band 80-6m Antenna
The OCF dipole antenna is high on ratings and features. It is a top choice because it has a poly-stealth core along with spectacular specifications such as the following:
This is a 7-band antenna.

The antenna has a built-in arrestor for lightning along with a hang up hook.

It has a 61 ferrite core and a jacket made of copped Teflon. This jacket also has a silver tin.

The entire structure is made of stainless steel.

Its breaking strength is 370 lbs, which means it is quite a strong antenna.

It is water-resistant and can withstand harsh environments such as ice loads, high snow, and acid rain.
---
2. Super Antenna MP1DXMAX Low Profile Tripod 80m-10m Antenna
Super Antenna is a very popular brand for antennas. This one is a complete kit consisting of a bag as well. Here are the reasons why you should consider purchasing it: 
It is a complete setup for 80m to 10m and can work with VHF 2m.

In the package, you will find an adapter, a SuperWhip made of titanium, a low-profile tripod, a SuperSpike, a bag, and a SuperMount.

When collapsed, this antenna measures 12 inches and when fully extended, it is 7 feet long.

It is a highly efficient antenna within 1 dB of a vertical antenna (full-size).

You can use it with all amateur radio transceivers.

This antenna works on pretty much all bands including 80m.

It has the ability to continuously tune all frequencies – Short wave, MARS, government, marine, etc.
---
3. MFJ-1982MP EndFed ½ Wave Wire Antenna
This antenna is suitable for restricted spaces thanks to its compact build. It provides full coverages thanks to its superior specifications. A few of them are as follows:
This provides full HF coverage and you do not need a tuner for most of the common frequencies.
It is made of stainless steel along with UV-resistant materials.

You do not need a feedline, radials, or counterpoise to operate this antenna.

It is 132-feet in length.

The 300-watt antenna can cover 80 to 10m bands.
---
4. Multi-band Long Wire Dipole Antenna
The Harvest Taurus antenna is a 80-6m antenna with WARC bands. It has been well-received by amateurs so far due to the following features:
Its power is 400W.
It comes with a UHF connector (SO-239).

Its total length is 64 feet.

This multi-band long wire antenna has an unun of 9:1.

It is a good end-fed antenna and does not need a balun.
---
5. MFJ-1982LP EndFed Antenna
This is another MFJ product with the same reliability but with other features. It is a 30W antenna that works on the 80-10m band and has the following features:
You will get full HF coverage without the need for tuning. Most channels can be tuned to seamlessly.

It is made of stainless steel and also has UV resistance. This makes it a great choice for the outdoors.

You do not need radials, feedline, or counterpoise while using this antenna.

It measures 132 feet.

Installation is quick and does not require additional tools.

It comes with a radiator made of insulated wire that works to prevent detuning.
---
People Also Ask
1.) Do End-Fed Antennas Work?
Yes, they work very well in varied circumstances.
2.) Can An Antenna Be Too Long?
Yes, the length plays a major role in the reception and if the antenna is too long, it may not resonate.
3.) Do Long Wire Antennas Need A Counterpoise?
No, they don't.
4.) Does A Long Wire Antenna Have To Be Straight?
Yes, that's recommended because straight antennas get the best transmission.
Conclusion
Choosing a good 80m antenna can be confusing at times but there are many choices that can make this process easy. All you have to do is to check out the features and compare them with your requirements. The answer will be in front of you. All the best!