Comparison
Gray-Hoverman Vs Bowtie Antenna – Know The Difference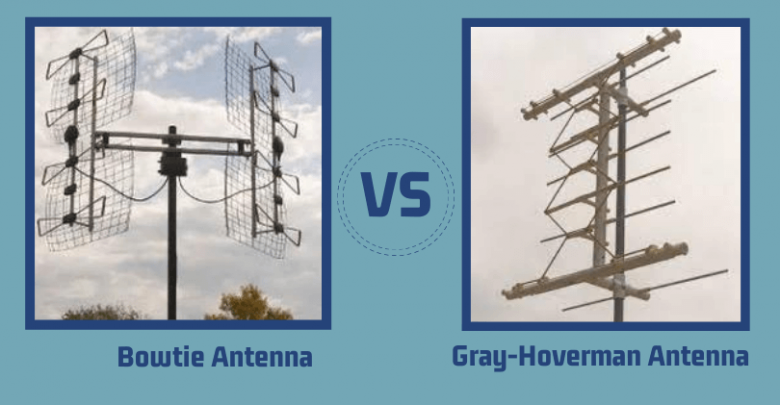 Remember those times when dad sent you to adjust the antenna to get a stronger signal? Looking back, these are good memories but at that moment, it was very inconvenient. Many of us got frustrated by the need to keep adjusting the antenna. But, not anymore!
Gray-Hoverman Vs Bowtie Antenna
Advancements over the years have removed the need to fiddle with antennas manually. Latest antennas are streamlined and more sensitive, and they can catch the signal with ease. 
Now, the thing is that every new antenna is good and technologically sound. It can be confusing to choose, thus. If you are facing a hard time picking between Gray-Hoverman and Bowtie antenna, you have come to the right place. We have compared them both to help you decide based on facts.
The Features
First things first, we shall go through each of their features.
Gray-Hoverman Antenna
With this antenna you can cover 75 to 100 miles to get the desired channels.

It can handle UHF and VHF signals.

It has a DIY configuration, which means you can install it all by yourself.

It can catch various frequencies including ATSC, TV, ISDB-T, etc.

You can build it on aluminum or copper, based on your preferences.

If there are any performance concerns, you can use a reflector.
Things To Remember:
You will need to use coax cables for good connectivity.

The performance is not the best out there and since you will install it yourself, you will be solely responsible for the performance.
Bowtie Antenna
It is a versatile antenna that can meet various needs. It is available in different variations from 45 miles to 70 miles. You also have HDTV pre-amplifiers and mounts.
The 70-mile antenna also comes with a VHF kit.

Its design is quite seamless and functional because it has brackets. These brackets allow safe movement for adjustments.

You will be able to get all US channels from 14 to 69.

Even if there are weak signals, the antenna will handle them and bring them to your TV.

All the channels will be available in HD i.e. 1080p.

This is a large antenna with a central mount.

It is easy to install and set up. You can be flexible while choosing the direction.
Things To Remember:
The antenna is very heavy. You have to be careful while setting it up and screwing the mount in.

If there are wires around you, the antenna will not be able to function properly. Make sure you mount it in an area with as few wires as possible.
Gray-Hoverman Vs Bowtie Antenna – The Verdict
The obvious choice here is the Bowtie antenna because of its ease of use and installation. You will get all the channels you desire without having to work too hard for them. The Gray-Hoverman antenna, on the other hand, may create unnecessary pressure because you have to set it up yourself. Unless you are a tech person, this will be difficult. So, we advise you to choose between the two based on your comfort level.
Both the aforementioned antennas work well to deliver excellent quality. The choice depends on your expectations alone.