Reviews
Best Mobile HF Antenna – Top 5 Choices And Buying Guide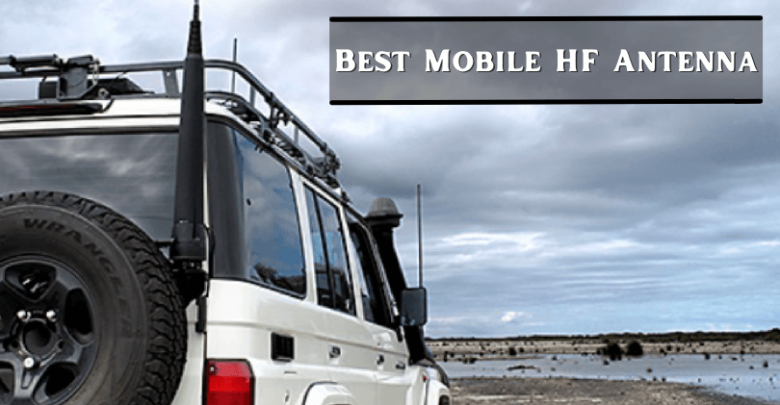 Hobbyists, amateurs, and pros alike know the importance of a good mobile HF antenna. These simple tools of communication have survived the test of time and continue to be an efficient means to spread the word. In fact, the number of amateur radio users has drastically increased in the recent past with over 7,00,000 licenses being approved solely in the USA.
Best Mobile HF Antenna
If you have an HF radio, choosing a good mobile HF antenna will change the way you use your device, opening up channels that you didn't know existed so far. This article is dedicated to helping you find the best mobile HF antenna without breaking a sweat.
Best Mobile HF Antenna – Buying Guide
There is quite an array of mobile HF antennas on the market today. The right one for you depends mainly on usage.
Vehicle-Mounted
Vehicle-mounted HF radios are often linked to a large setup. They need to be shock-resistant, highly efficient, and sturdy. Movement and other factors should not affect their performance either. This is why a solid-state antenna would be the best choice here.
Marine Applications
Conditions in the sea are tough. You have to weigh in UV exposure, weather changes, corrosion, etc. while choosing a mobile HF antenna. You will need a vessel-mounted one that is made to withstand harsh conditions without compromising on performance.
Other Conditions
Mountains and uneven terrains are unfavorable conditions for HF radio and for your device to work, you need a powerful whip antenna. We suggest one with magnetic loop antennas that do wonders in short range and steer clear of vehicle interference.
Best Mobile HF Antenna – Editor's Choice
It's time to take a look at what the market has in store for us. Thanks to the demand, there are a few exquisite choices that will not disappoint you. Read on to find out what they are:
1. MFJ-1669T 10-Band HF/VHF Mobile Antenna
The first one on our list is from MFJ, which is known for its high quality antennas. This model is proof of the same. Here's why we say so:
It is quite a versatile antenna allowing you to operate from 10 to 80 meters with HF mobile radios. You can also use it with VHF but the range will be 2 and 6 meters.

Its power handling capacity is 200 Watts and it has an overall low SWR. 

It is a high performing antenna for VHF and HF radios.

You can change the band with a tap of your finger, literally. Reach out to the wander-lead and swap it with the band you prefer.

It is quite a tall antenna with a maximum height of 65 inches.

The antenna comes with a 3/8-24 connector that makes it very easy to mount.
---
2. GRA-1899T Multiband VHF/HF Mobile Antenna
Our next recommendation is a portable telescopic antenna made for specific models of Yaesu and QRP rigs. If you have any of these, this is a fine choice. Let's learn why:
It is capable of covering all HF bands in the 80 to 6-meter range. You will also be able to access WARC bands.

It comes with a wander lead that makes changing the bands a piece of cake.

Its telescopic whip has 10 sections that comes in handy during fine-tuning. Adjusting the frequency is very easy thanks to this function.

The antenna requires the use of a SO-239 adaptor. It has a BNC connector

Fully extended, this antenna stands at 5 feet 5 inches. You can collapse it and remove the matching coil for storage.
---
3. Super Antenna MP1DXG HF Portable Antenna
This one's a great companion for Ham radio as it transmits and receives HF frequencies like a pro. Its features are worth taking a look at:
The package consists of an antenna, a radial set, a spike, a mount, and a ruler. In other words, it is the complete setup for ground mounting.

All the items can collapse for portability. Upon collapsing, they only measure 12 inches.

The compact antenna is not just powerful but also versatile. It can cover all bands from 40 meters to 10 meters. You can also use it for VHF frequencies (6 meters).

Its total extended length is 7 feet.

The antenna can withstand harsh weather conditions. You can mount it just about anywhere – soft soil, grass, or field.

It is compatible with all standard CB mobile and Ham mounts.
---
4. Bingfu Ham Radio Vehicle Car Mobile Antenna
The name says it all! This is a mobile antenna for vehicles with a dual-band capacity. With this antenna, Bingfu lives up to expectations. Let's take a closer look:
It has a strong magnetic base mount to stay in place during movement and different weather conditions.

The antenna is compatible with car mobile radio, marine VHF radio, two-way radio, public radio scanner, Ham radio, etc. It works with mosthttps://www.amazon.com/Combo-Harvest-OutB2000-Mobile-Antenna/dp/B07645G6JX/?tag=antennabasics-20 amateur mobile radios.

It requires a female SMA adapter.

Its range is 3 meters.

The omni-directional antenna has an impedance of 50 Ohm.
---
5. Harvest OutB2000 HF/6M Mobile Antenna – Combo
Combos are a great way of saving money. The Harvest combo comes with a magnetic mount and a 4-meter coax cable along with the mobile antenna itself. This set has made it to our list of recommendations for the following reasons:
This is a light and compact set with 9 bands.
Its frequency range is 3 to 50 MHz.

The all-in-one combo has an impedance of 50 Ohm.

The maximum power is 200 Watts.

It requires a PL259 connector.

The magnetic mount is low profile, compact, and heavy duty at the same time. It has the capacity to hold any amateur mobile whip with the right connector.
---
Conclusion
Thanks to technology and demand, the number of options for mobile antennas has increased drastically in the past few years. We are literally spoilt for choice! We hope this list went a long way in clearing your doubts and helping you decide which antenna to buy. If you are still confused, you can always connect with us.