Reviews
Best 10 Meter Antenna – Our Choice Of The Top 10 Meter Antennas In 2021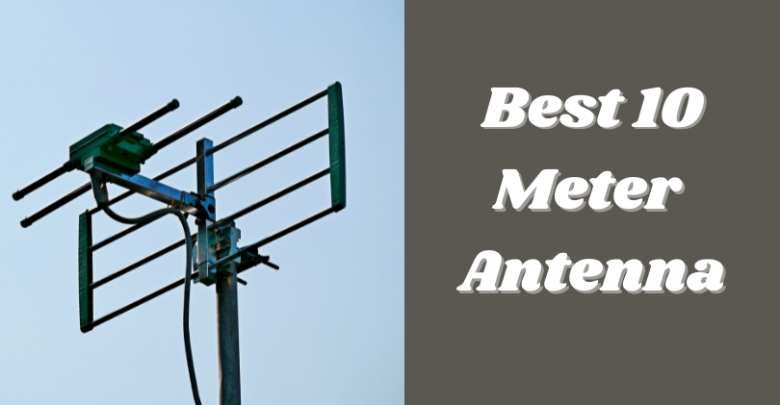 The 10-meter band is popular among amateurs for Satellite and radio use. It is a part of the shortwave spectrum and operates on AM. There are, of course, different frequencies to choose from. 
Best 10 Meter Antenna
10-meter radios are popular as Ham Radios or Amateur Radios because they are a great starting point for beginners. The frequencies range from 28.000 to 29.700 MHz, covering many channels. To boost performance, you can use any standard antenna with these radios. They are good enough and will get the job done. However, buying antennas dedicated to your requirement is always a better choice. 
To help you with that, we have shortlisted a few antennas that you can choose from.
Best 10 Meter Antenna – Experts' Choice
It's true. There's a lot of noise out there. So many brands. So many opinions. So much to take in. It all gets overwhelming and that's totally understandable. But this shouldn't stand in the way of you buying a good product. The list below will ease your stress and help you out. 
1. 10 Meter HF Mobile Stick Antenna
This is a simple antenna measuring around 8 feet when untuned. Of course, you can tune it according to your preferences and enjoy new channels. Here are a few of its highlights:
It has been designed specifically for the 10 Meter Amateur Ham Band.

The 8-feet long whip is made of black fiberglass and stainless steel. Steel covers the top 4 feet of the whip while the rest is fiberglass.

It has the capability of handling 250 Watts.

It comes with a 3/8-24 mounting tread base.

To install this antenna, you need a proper cable and mount.
---
2. MFJ-1610T Mobile Antenna
This is a lovely monoband mobile antenna from MFJ. It measures 7 feet and is suitable for most applications. Read on for more details:
Its diameter is 3/8 inches. 

The 4-feet rod is made of fiberglass, which is very durable. It is almost indestructible.

It also has a stainless steel whip that's chrome-plated with brass fittings.

It can handle 250 Watts.

The antenna can collapse to 4 feet when you want to store it. Fully elongated, it is around 7 feet long.

You need a 3/8 x 24 female mount to install this antenna.
---
3. Shark Antennas S-FM10 Mono Band Antenna 
Now, let's take a look at another 10 meter antenna that's giving stiff competition to all the others on our list. It is simple and easy to use thanks to its many good features. A few of them are as follows:
It is a single band antenna with a 24-inch fiberglass mast. 

The whip is made of stainless steel and is removable.

It also has an integral coil that provides more strength to the overall structure.

This is a mobile vertical antenna with a capacity of 250 Watts.

Its thread base measures 3/8 x 24, which makes it compatible with most mounts. 

You can use it with another matching stick or more sticks to connect to your favorite bands.
---
4. Sirio SD 27 Dipole Antenna 
The Sirio Antenna is quite popular, we must say. It is tuned from the factory at mid-band and has excellent power handling abilities. Let's take a closer look:
Its dipole frequency range is 26 to 28 MHz. 

It is omnidirectional when mounted vertically. But, if you mount it horizontally, it will be unidirectional.

The antenna's sleeve is made of aluminum alloy and it is waterproof.

It is a high-power antenna with the ability to take 1000 Watts of power. That's more than what all the others on our list can handle! 

The materials used in this antenna are nylon wind load, steel, and aluminum.
---
5. STRYKER SRA10 10 Meter Mirror Mount Antenna
The lovely STRYKER Mount Antenna is waterproof and has some amazing specifications. You don't need to take our word for it. Just read on and you will know.
It has 10 hours of battery life.

The antenna has a paper white backlight for the day time.

It as a wireless display.

It is made of solid copper with a silver plate wire that makes it highly efficient. 

It can work over 30 miles away, which is quite high and impressive.
---
People Also Ask
1.) Can I Use A CB Antenna For 10 Meters?
Yes, a standard CB antenna will work.
2.) Will A 10 Meter AMP Work On 11 Meter?
It might work once you convert it but it is illegal to do so in many states.
3.) What Is The 10 Meter Calling Frequency?
It is around 28 to 28.5 MHz.
4.) Is 10 Meter A CB Band?
No, it is not. 
5.) Do You Need A License For A 10 Meter Radio?
Yes, you need a license to operate a 10 meter radio. You don't need one for CB radios.
6.) What Can I Listen To On Ham Radio?
You can listen to commercial FM stations with the utmost ease.
Conclusion
A 10 meter antenna will surely boost the performance of your radio. It is easy to find and use because of its demand but make sure you buy something reliable and backed by reviews to avoid antennas that are problematic. All the best!