Reviews
Best Dual Band HT Antenna – Top choices from Experts in 2021
HT or handheld transceiver radio is popular among beginners. It is a handy radio that gets you started and helps you explore the beautiful world of frequencies and bandwidths.
Best Dual Band HT Antenna
Now, if you often find yourself changing positions to catch the signal or if the other person's voice is not clear at all, you need a new antenna. This is usually the case with stock antennas because they are not built with performance in mind. They are usually very basic and supply aesthetic value but nothing more than that. For seamless performance, you definitely need a new antenna and that's what we are going to speak about today.
Why Should you Invest in a Good HT Antenna?
We shall start off by explaining all the benefits you can reap when you get your hands on an HT antenna.
You will be able to get more channels because a good antenna will connect to more stations
You will also enjoy clear and loud signals without any delays or static

The coverage will improve significantly

You can upgrade very easily because installation is fast and simple
Best Dual Band HT Antenna – Experts' choice
Each of the antennas here is well researched and tested, enabling you to eliminate the finding process completely. Just compare the options on our list and you will end up with your favorite within minutes!
1. ExpertPower Dual Band Antenna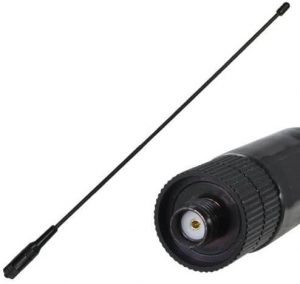 The ExpertPower antenna is available in 2 variations – long whip and standard whip. We recommend the long whip version, which measures 14.5 inches. Below are some of its best features:
It is an SMA-female antenna.
It is a very well-constructed unit with rigid material and solid plastic. It is more durable than standard rubber ends that are common in stock antennas.

The antenna is very easy to install because it is a screw-on type model. This means that you just have to twist it into the radio and you are done.

You can enjoy UHF and VHF very easily with this antenna.

The frequency that it works on ranges from 130 to 144 and 440 to 455 MHz.
---
2. Handheld Radio Antenna for ICOM Radio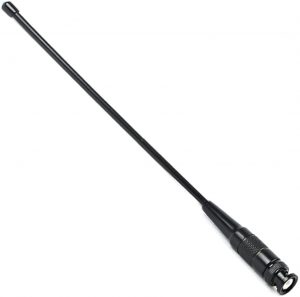 This lovely antenna is an Amazon's Choice product! It is versatile in that it supports both UHF and VHF, and comes with the features below:
The antenna works to extend talk distance by pulling the signal well.

Transmission and reception are exceptional.

It is made of durable plastic that can withstand years of regular use.

Since it is 15.6 inches long, it can boost frequencies very well. Even if it is a weak signal, this antenna will pick it up for you.

Its SWR range is one of the best in the market today, ranging from 1.1 to 1.4.

The antenna has a male-type BNC connector that goes with a female plug. 
---
3. Diamond Dual Band High Gain Handheld Antenna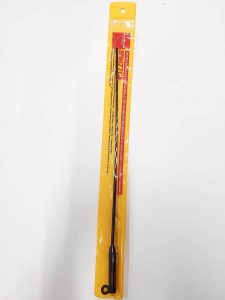 We love the Diamond Antenna because it is a high gain unit with a length of 15 inches and a world of excellent features. We have enlisted a few of them for you:
Its maximum power is 10 watts and its gain is around 6 dB.

The antenna is effective in delivering an uninterrupted signal that's clear and seamless.

It has an incredible capacity to boost SWR. It can go down to 1.1 even if you are getting a bad signal.

Overall, the antenna is flexible and easy to use. it has a sturdy barrel that is sure to last for a long time.

The antenna has a BNC connection, making it very easy to install and use.

Please note that this is not a good choice for Baofeng radios.
---
4. Bingfu Dual Band Ham Radio Antenna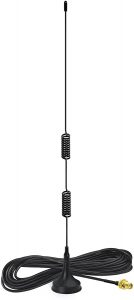 Easy to install and use, the Bingfu Dual Band antenna is a splendid choice for your ham radio. It is an SAM female antenna with the following specifications:
It works for both VHF and UHF with ease. 

Its gain is 8 dB and it is omnidirectional.

The antenna's length is 8m.

It is compatible with a great range of radios, making it very versatile.

It comes with a very strong magnetic base mount.
---
5. HYS Foldable Antenna – Dual Band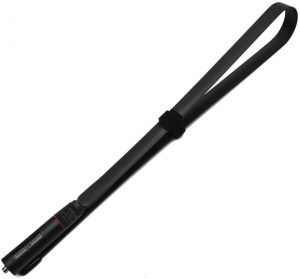 The last unit on our list is a very tactical one that folds neatly. Its frequency ranges are 136 to 174 MHz and 400 to 470 MHz. Other details are as follows:
It is a long antenna with a length of 31.5 inches.

The tactical antenna has a female SMA connector.

It is a powerful antenna at 20 watts. Its SWR can go as low as 1.5, which is one of the best.

You can fold the antenna and use it as convenient. 

Even though it is flexible, it is very durable and will not be damaged easily.

It significantly boosts the performance of the radio by providing an excellent signal.

---
People Also Ask
1) What Does HT Mean in Ham Radio?
HT stands for Handheld Transceiver. These antennas are very easy to set up and use.
2) How High Does a UHF Antenna Need to be?
30 feet is the recommended height.
3) Can an Antenna Be Too Long?
Yes, it can. An extremely long antenna can overload your radio. 
4) How High Can My Antenna Be?
The general rule of thumb is that the antenna should be around 1/100 the distance of the tower.
Conclusion
You will note that each of the antennas mentioned here are unique in their own way. They are reliable, of course, but also come with specific properties that help them stand apart. Depending on what your preferences are, you can make a choice among these. Most of the units are also backed by a warranty, making them a safe choice. All the best!