Reviews
Best 2 Meter Mobile Antenna – Top Rated 2M Antennas Of 2021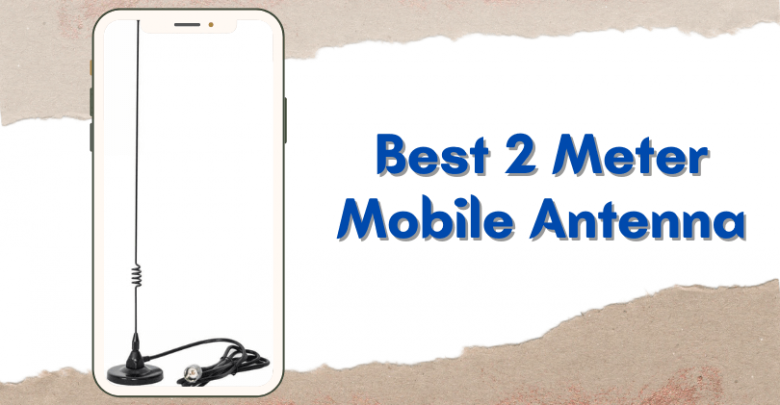 We live in incredibly advanced times and yet, there's always a chance of our cell phones losing their signal. That's never going to be the case with your ham radio. It will come in handy in emergency situations, and you can always use it to communicate with nearby ham radio enthusiasts.
What makes ham radios so reliable? It's the antenna. They have a dual-band antenna that makes it all possible. This is why we think you should invest in the right antenna and wire. It will help you make the most out of your ham radio.
In this article, we shall speak about some top rate 2M antennas of 2021 that have been tried and tested under multiple conditions. 
Best 2 Meter Mobile Antenna
We request you to go through our list, compare, and select the right mobile antenna wire based on your requirements.
1. Dual-band Mobile Antenna 2m/70cm – VHF/UHF Ham Radio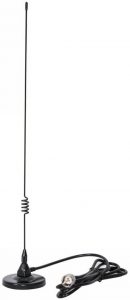 Of course, we will start with an Amazon's Choice product! This dual-band mobile antenna from VFAN is perfect for VHF/UHF ham radio and it comes with a 10-feet RG58 cable. Let's find out more here:
The antenna comes with a magnetic base and a PL-259 connector.

Installation is extremely simple, thanks to its strong base. It won't take a lot of time for you to install it on the roof of your car.

The antenna is waterproof and consists of anti-freeze materials. It has a stainless steel body.

This is an omni-directional antenna, which means that you can change its position to get better performance.

You can use the antenna on pickup trucks, cars, SUVs, vans, etc.

The manufacturers offer a warranty of 1 year against defects.
---
2. HYS TC-HC152V Amateur Antenna – 2M Ham Radio Antenna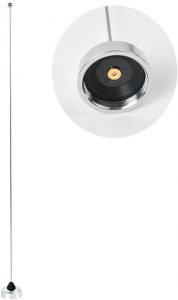 This antenna may look simple, but it definitely packs a punch. It is a 136-174 Mhz NMO antenna that has been designed to work with various types of radios. Its features are as follows:
The maximum input power is 150 Watts.

The length of the antenna is 17.8 inches. It has a flexible whip that is made out of stainless steel.

You will experience a gain of around 2.5 dBi with this antenna.

Its polarization is vertical, and the radiation is omni.

The antenna's bandwidth is 4MHz while its frequency range is 136-174MHz.
---
3. Comet SBB-5NMO 2M/70cm Dual-band Mobile Antenna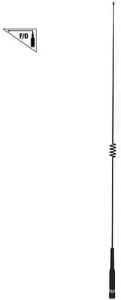 This antenna also has an NMO connector with a 2M coverage. It may be priced slightly higher than the others, but many users say that it the price tag is justified. Let's take a closer look:
The maximum power is 120 Watts.

The length of the antenna is 38 inches.

The antenna is tuned only for VHF and UHF bands. You will not be able to use it with GMRS.

It comes with a heavy-duty 5-inch magnet mount.

It can also fit low ceilings in a garage thanks to its ability to be folded.
---
4. FireStik 2M-4 BK Fiberglass Antenna

The FireStik antenna is another excellent choice for those who are looking for a reliable antenna for their ham radio. Here's why we think so:
It provides the lowest angle of radiation of any antenna.

The average tuning is 1.5 to 1 over 4 MHz.

The antenna's conductor is double insulated with a 19-gauge copper wire.

It is rated at 400 Watts.

Please note that this is not a good choice for marine VHF radio because these frequencies are too high.
---
5. FireStik 2MCKB 2M Base Antenna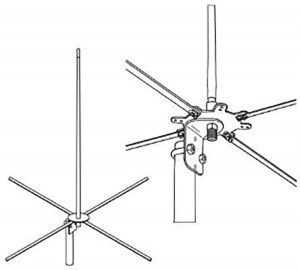 FireStick products are extremely popular when it comes to radio antennas. They are sturdy and reliable, which is why we couldn't resist adding two products from their arsenal in our list. Let's learn more about this particular one:
It has a 6 dBi 5/8 wave design.

It is made of solid fiberglass with a 19 gauge copper wire that provides heavy insulation.

Its base threads are 3/8-24.

You can mount it on any mast as long as it is less than 38mm in diameter.

The frequency range is 144-148 MHz.

The cable and mount are not included in this package.
---
People also ask
1) Is a CB antenna same as a ham radio antenna?
No, they are different antennas.
2) Can I use a CB antenna for ham?
No, you can't. This is because a CB antenna is a single-band antenna. You need a dual-band antenna for ham.
3) What kind of antenna do I need for my ham radio?
 A basic dual-band antenna will suffice.
4) Does a ham radio need an antenna?
Yes, it does.
Conclusion
The right 2M mobile antenna for your ham radio will elevate your experience and help you make the most out of it. Communication and detection will be very easy once you pick a suitable antenna. This article was put together to help you with exactly that. We hope you found it helpful. Please reach out to us if you have any questions.