Reviews
Jeep Antenna Adapter – Best Antenna Adapters For Your Jeep In 2022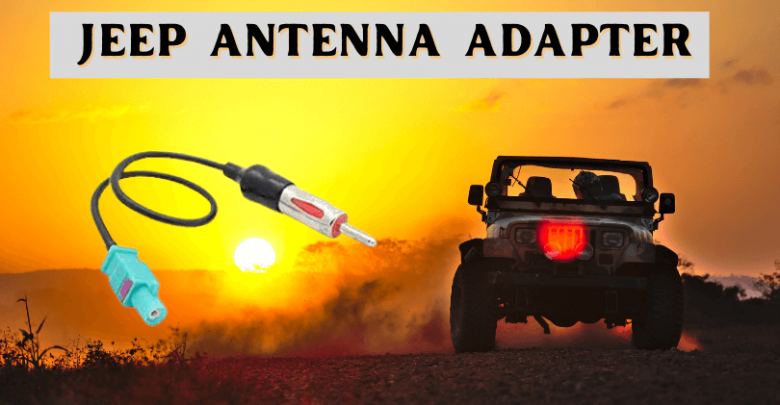 Without the right antenna adapter, you will not be able to use the antenna on your Jeep. While there are many available options, you can't simply pick the first one you lay your eyes on. This is because it depends on the type of antenna you have.
Internal antennas

Satellite antennas

External antennas
Jeep Antenna Adapter
Within these, you will find OEM and aftermarket antennas. Each model in these categories will have its own specifications about the adapter. But, if you are replacing your OEM radio, you will need a whole new adapter. A standard adapter is usually included in the package but if you need an upgrade or replacement, finding a compatible Jeep antenna adapter is your only choice.
Best Jeep Antenna Adapter – Editor's Choice
To help you in your quest, our experts have come up with the top picks available on the market today. We have used them, gone through other user reviews, and researched thoroughly to bring these to you. 
1. Red Wolf Replacement For Jeep Wrangler 
This is an antenna adapter plug replacement for Jeep Wrangler models from 2007 to 2013. It is also compatible with a few models of Dodge, Chrysler, Avenger, Caravan, etc. Here are some of its features:
It is easy to install – you just have to plug it into the radio.

It helps with the reception of multiple signals including AM and FM.

It fits well since it is an OEM replacement.

The aftermarket adapter is quite versatile and easy to use. You won't face any problems with the setup.

The sound quality is right up there with its competitors.
---
2. Car Stereo Radio Antenna Adapter
The antenna adapter from the RDBS Store is one of our favorites and users resonate the same. It has numerous excellent reviews and happy users. Its features will tell us why:
It is compatible with Jeep Commander, Jeep Wrangler, Dodge Caliber, Dodge, Jeep Liberty, Chrysler, etc. models.

The adapter has a very strong ABS plastic connector that enables a secure connection.

The wire comes pre-stripped and is ready to use. You do not need to cut the wire or make any adjustments.

It does not need an illumination wire either.

It will help you transmit and receive radio signals with ease.
---
3. Metra 40-CR10 Antenna Adapter
Made specifically for Dodge, Jeep, Ford, Chrysler, and GM models from 2002 and up, this adapter connects the radio and adapter cable. Its features are as follows:
This is the perfect adapter for an aftermarket radio antenna. 

It is a replacement for the original adapter because OE adapters do not work with aftermarket products.

It is compatible with many car models including Jeep.

The adapter is extremely easy to install.

It can easily pick up FM and AM signals.
---
4. Harmony Audio Radio Antenna Adapter – HA-40EU10
If you have a Jeep Wrangler model from 2007 to 2013, this adapter is for you. It has been designed for aftermarket radio antenna and has the following features:
It comes pre-stripped and ready to install. You do not have to worry about cutting it.

You can set it up by simply plugging it in. No additional steps!

This is a standard adapter that fits any aftermarket radio.

It has been designed to be a replica of OEM connections so that you enjoy the same quality.

It works as expected and is fairly priced.
---
5. Car Radio Antenna Adapter Kit 
This is a compact adapter kit for aftermarket radios, compatible with Jeep, Dodge, Ford, and Chrysler. If you have any of these models from 2002 and up, you will appreciate this kit. Here's why we say so:
It adds the CD FM modulator.

The length of the cable is 6 inches. You can easily connect it to the factory plug.

You can use it for factory radios as well, as long as they have a flat connector. It has wide compatibility with aftermarket radios.

It is compatible with Metra.

This kit includes 2 cables – antenna to male Motorola and radio to female Motorola.
---
People Also Ask
1) What Is A Metra Antenna Adapter?
It is an adapter that comes in handy when you replace your OE radio with an aftermarket one.
2) Can Jeep Antenna Go Through A Car Wash?
No, a car wash can damage the antenna.
3) Why Do Jeep Wranglers Have Antennas?
The antennas help get high reception.
4) Should I Remove The Antenna Before Cash Wash?
Yes, you should. 
Conclusion
The lack of an adapter shouldn't be the reason why you don't purchase a new radio for your Jeep. The market has numerous choices that you can pick from depending on your preferences and compatibility. This article will definitely help you in your research. If you have any doubts, please feel free to connect with us.