Reviews
Best Short Antenna For F150 – Top Antenna Choices For Your F150 In 2021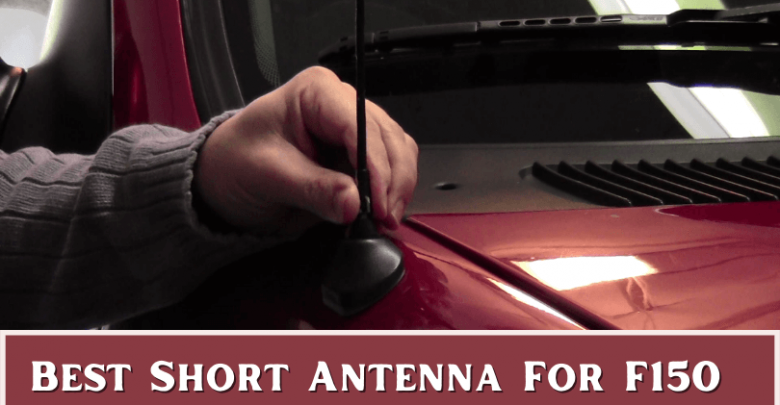 While we are all in favor of standard and stock units, they fall short sometimes. When it comes to expensive cars, we have seen that stock antennas are not as good as we want them to be, and that gets disappointing very fast. F150 is a classic example.
Best Short Antenna For F150
The big antenna that comes with the F150 is not a great choice because it is large and not high on performance. In fact, in many cases such as parking in the garage and harsh weather conditions, the size is a downside. This is why more and more F150 owners are making the shift to short or Stubby Antennas. If you are one of them, this article is for you.
Why Choose Short Antennas For F150?
There are many reasons why you should make the switch but the biggest ones are as follows:
They are aesthetic and can enhance the overall appeal of your vehicle

They maintain a small profile while working to bring the nearest stations to you

The FM reception is often very good

Short antennas are less likely to interfere with the GPS and Bluetooth in your car

They will not cause problems when you park or in the car wash

They can withstand extreme weather conditions

Short antennas are available in various sizes, colors, and shapes, allowing you to purchase exactly what you desire. There are customizable options as well.
Best Short Antenna For F150 – Experts' Choice
We know what you are thinking – there are so many online choices. Which one should you go for? We understand that the availability and demand can be overwhelming but hey, that's why we are here! We have shortlisted our favorites so that you jump the queue and make your purchase. Read on!
1. Rydonair Antenna – Compatible With F150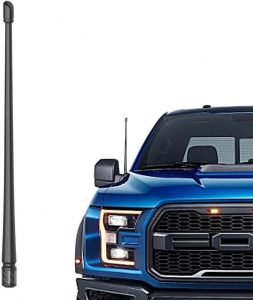 The first short antenna on our list measures 13 inches and has been designed for the 2009 to 2021 models of the F150. Its features are as follows:
This is a flexible rubber antenna with shape memory. In other words, it will come back to its original form even if you bend it.

The rubber build makes it resistant to harsh weather conditions.

The antenna is a huge upgrade from the stock 31-inch antenna. It not only looks great but also maintains a low profile and will not get stuck in the garage door anymore.

It has a carbon fiber column that keeps it firmly attached to the mount.

You can install this antenna within seconds thanks to its screw-on installation process.

The reception is quite good on both FM and AM bands.

The manufacturers provide a warranty of 1 year.
---
2. AntennaMastsRus – The Original Antenna For F150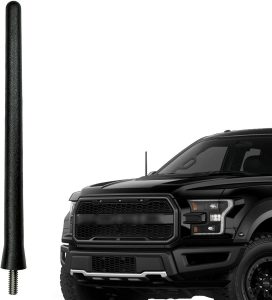 If 13 inches is also a lot for you, maybe we can go smaller? Say hello to the AntennaMastsRus antenna that measures only 6 ¾ inches and has the following features:
This USA-made antenna can sustain the aggression of car washes! This is a notable feature because most stock antennas will snap and succumb to car washes sooner or later.

It has 304 stainless steel threading that makes it an extremely strong option.

The rest of the antenna is made of rubber (EPDM) that's known to be very durable. It can withstand high temperatures up to 257 degrees F.

It has an internal copper coil that's highly conductive. It pulls in more stations than you can imagine!

The installation process is not just easy but also quick. It won't take you more than a couple of minutes.
---
3. Votex – The Original EPDM Rubber Antenna – Car Wash Proof
Here's another short antenna measuring just 6 ¾ inches for your F150. It is an Amazon's Choice product and we think its tag is justified for the following reasons:                              
It is made of stainless steel threading that lends strength and durability to its overall design. 

The EPDM rubber construction further makes it flexible and allows it to withstand different conditions including heat of up to 257 degrees F.

The antenna is German-engineered and has a copper coil that is highly conducive.

It works especially well for FM radios.

It is bendy and doesn't snap when bent. It goes back to its original shape even if it is bent. This is how it survives car washes and small garages.
---
4. VOFONO Short Antenna For Ford F150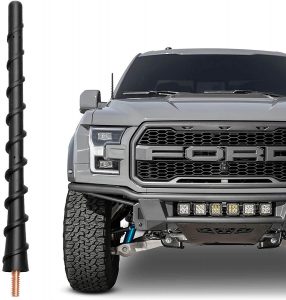 The VOFONO Short Antenna is available in different sizes from 4 to 13 inches. We think that the 7-inch model will be perfect for your Ford F150. Here's why:
It has a spiral shape that's quite unique and interesting. This shape makes it durable and resistant. 

The antenna has an internal copper coil and an external rubber construction. You can expect good reception and great sturdiness at the same time, thus.

Installation requires zero tools. It will take you around 30 seconds to install it on your F150!

You don't have to worry about the car wash anymore. Whether it is manual or automatic, this antenna can handle it quite well.

It fixes quite firmly, not loosening even on impact. That's a handy feature especially during long drives.
---
5. AntennaX 50 Cal Black Bullet

Now, this antenna can really impress you – aesthetically and functionally. It is 5.5 inches long and is suitable for all F150 models from 1980 to 2021. Below are a few specifications:
It is a stylish antenna made of T-6061 billet aluminum. To top it, it has an anodized finish. This construction ensures that there are absolutely no signs of damage such as scratches, chipping, and fading even after years of usage.

Within a minute, you will be able to mount this antenna onto your vehicle.

It is a flexible antenna with rubber construction. It can bend but it will not break.

It provides good reception for AM and FM signals.

It looks amazing and does its job seamlessly.
---
Conclusion
Swapping your stock 31-inch antenna for a short one is ideal especially if you are facing issues during car wash, driving long distances, and parking. All of the aforementioned choices are tested and proven to satisfy most expectations. We hope you love them just as much as we do.